What is that white and blue plastic sheet?!
It's Crawl Space Encapsulation liner!!
Many crawl spaces go unfinished, ugly, and neglected, but that space is so much more valuable than you think!
More than 50% of the air you and your family breathe in the home originates from the crawl space. When crawl spaces get hot during the summer they can hold excess moisture, toxic mold, uninvited gases or harmful airborne allergens. During the winter,
untreated crawl spaces are a host to cold floors, cold feet and drive up your energy costs! Who wants that in their home?!
Crawl Space liners are a crucial part to Perma-Seal's Crawl Space Encapsulation system, a solution that can turn a nasty crawl space into a bright, healthy
and usable environment. Yes, we said usable! Most people use that crawl space for various storing needs!
Crawl Space liner is installed along the ground and walls of the entire crawl space to protect from water seepage and soil gases.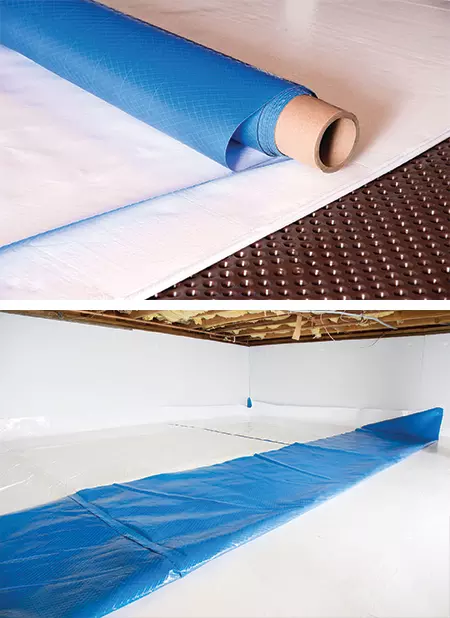 This heavy duty liner accompanied with a proper drainage system and sump pump, can remove any water from your home and keep those pollutants out of that crawl space for good.
During a Crawl Space Encapsulation system installation, our Tribe will place Crawl Space liner over the ground and on the walls of the entire crawl space to act as a "base layer". At 20 millimeters thick, this puncture free liner has a 25 year warranty
and will act as protector against soil gases and encourages water drainage to occur below the floor liner. Any wall seepage will not enter the crawl space and go straight into the drainage systems.
In other words, it keeps your Crawl Space dry and free from all those harmful elements! Having your crawl space encapsulated also helps with reducing your heating and cooling costs since that area is now a regulated and more insulated area. It is
important to note, crawl space liners are only one piece of the entire system as certain crawl spaces may require additional material for proper encapsulation.
Interested in learning more about encapsulating your crawl space? Give us a call! We're ready to help schedule your free inspection by one of our certified consultants.
Learn more about our Crawl Space Encapsulation system here: https://www.permaseal.net/services/crawl-space-solutions/encapsulation