Bowed Wall Repair
One of the most common foundation repair problems we see in Chicagoland area homes are bowing basement walls. It is very simple to know if you have a bowing wall, whether your basement is finished or unfinished. If the wall is pushed inward into the space and is no longer completely vertical, you've got a bowed wall problem. If you've got this happening in your home, it is very important that it is evaluated by a professional and if it needs to be repair, it is done as quickly as possible. When the walls are bowing inward and cracking, there can be a number of problems including leaking and flooding. Over time, bowing or bucking basement walls could eventually collapse. After this happens, the only repair is to replace or rebuild the foundation wall which is very costly and could certainly be avoided by one of our foundation repair methods.
We have a number of solutions that we use to repair bowed walls and prevent them from bowing inward any longer.
Wall Anchors
If your foundation walls are leaning or bowing inward, our Wall Anchor System can permanently stabilize and possibly straighten your basement walls without the disruption of foundation replacement. Heavy duty, earth anchors are embedded securely in stable soil, away from your foundation, and are connected to steel wall plates with long, threaded, steel rods. The anchors will hold the wall in its current position, and can be adjusted in the future, if necessary.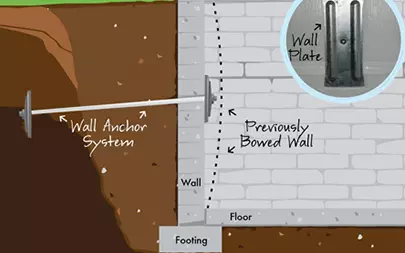 PowerBrace™
The PowerBrace™ is a steel I-beam that is installed against the bowing basement wall with a specialized bracket attached to the footing and floor joists. This bracket, along with the beam, put pressure against the wall to move the wall back into position and keep it there permanently. This method works best when the bow to the wall is relatively minor and is one of the most cost effective ways to repair the bowed wall.
Carbon Foundation Straps and Neck Ties
Soil pressure can cause a concrete block, stone or brick foundation to crack and start to bow in the middle of the wall. Carbon fiber straps are designed to stabilize the wall and halt any further movement. These foundation straps can be installed without any excavation, can be painted over, and will not stretch or move over the lifetime of the home. Neck ties should be used when your entire wall is leaning in or out. Bolted onto the bottom of the floor joists, the neck ties, in conjunction with carbon fiber straps, will prevent the wall from leaning any farther away from its original position.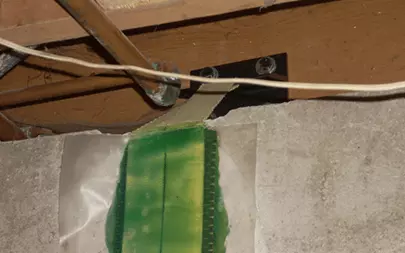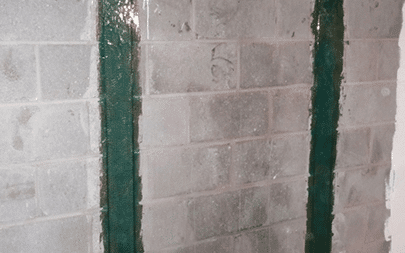 In addition to carbon fiber straps, foundation staples can be installed on any large cracks in your foundation. The staples are installed on both sides of the crack to ensure that foundation cracks will not separate any farther, unless there is an underlying structural issue with your foundation.

C-Channel Wall Anchors
When the bowing of the wall is minor, one of the items we can use is a C-channel wall anchor. These are attached to the wall at the footer and at a point higher on the wall to control the bow and can be periodically tightened to straighten the wall over time.
Contact Us
If you'd like to schedule a consultation with a member of our team to discuss a bowed or bowing wall repair solution for your basement, please contact us today.
Foundation Repair
I had the option of using another contractor, but I chose to have Perma-Seal perform the interior crack repairs because I trust their years of experience and excellent reputation as
…
a foundation repair company in Chicago.
George F
Foundation Repair
Just want to say thank you to Perma-Seal for doing such a fine job on my basement.
Michael Abercrombie
Foundation Repair
I have nothing but praise for Perma-Seal. They were all so nice, helpful and patient when answering questions about my foundation. The crew introduced themselves when they arrived and left
…
the work area very clean when they left. Working with Perma-Seal was such a pleasant experience!
Joseph F