Basement Humidity Control
After you have installed a basement waterproofing system, you can turn your focus to controlling the humidity and turning the basement into a more habitable area. Similar to installing a crawl space encapsulation system, the final piece of the puzzle is going to be a standalone dehumidifier or one combined with an air filter which will control the humidity levels and improve the air quality in the area. A large portion of the air in your home is drawn from the basement so ensuring this air is clean and at an appropriate humidity level is very important.
The EPA states that indoor air pollution is one of the top five environmental health risks. Common sources of indoor air pollution are building materials and furnishings such as insulation, damp carpet, and certain types of furniture, household cleaners, humidifiers, and even outdoor air pollution. The installation of a basement air filtration and dehumidification system can reduce the impact of these pollutants and contribute to reducing the overall humidity levels in your home.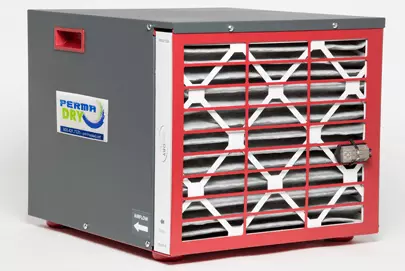 Basement Dehumidifier and Air Filter
The Perma-Dry™ is one of the highest performing and most efficient air filtration and dehumidification system without a large heat exchange core. This will help prevent the growth of mold and mildew, reduce musty odors, and help provide healthy, dry air that can improve the overall health and comfort of your home. The Perma-Dry is Energy Star certified for high efficiency, has a filter to remove mold spores, dust, and fine particulates, drains directly to your water removal system, and has automatic humidity sensors to control excess humidity. When partnered with a basement waterproofing system for areas that experience high levels of relative humidity it will help to keep that level below 50%.
Contact Us
If you'd like to schedule a consultation with a member of our team to discuss improving the air quality in your basement, please contact us today.
Annual check up/ maintenance
Keegan King came over to check our sump system and review overall structural conditions. He did a great job and was thorough with his evaluation. He also tolerated my dogs'
…
constant barking. I appreciate that I am informed of service product offerings and improvements, but never feel pushed into purchasing right at the moment. Keegan took the time to show a video of how one of their products worked so I could make an informed decision. I feel that Permaseal is always upfront and transparent with cost, value, and efficiency. It's nice to know how investing in products can save energy costs or create a healthier environment. Good customer service can be hard to find, but not with Permaseal.Much thanks!Julie
Julie Bayer
Foundation Repair
I requested an estimate for a leak in foundation. Dan McGowan came out,did a preliminary review and came back to dig out my foundation to find the crack. He only
…
found a poor job by the previous owner in some brick work at the top of the foundation. He spent a couple of hours and would not bill me. A welcome experience with an honest contractor. I would definitely recommend Perma-Seal for giving a honest foundation repair estimate and being extremely helpful even when there was no apparent monetary gain to be had.
Larry A
107 Waterside Place
Dear Perma-SealOn 11/30/2019, service technician Ramon Duron was prompt, congeal, and knowledgeable in addressing and repairing the water intrusion through the basement wall. He left the affected area clean and
…
tidy, and he was very responsive to all my questions. He is definitely an invaluable representative that speaks well for Perma-Seal. Thank You to Ramon and Perma-Seal.John A Navickas, 107 Waterside Place, Burr Ridge, IL 60527
John Navickas