Basement Wall Systems
After we have installed a comprehensive basement waterproofing system, you can start to look into some of our products to aid with getting your basement ready to finish. Most of these items focus on ensuring the area will be protected from water and to prevent any damage that could come from basement water. We use a few different products that have different types of applications and will keep your basement dry and safe.
The CleanSpace® wall liner is a 12-mil thick reinforced plastic liner that is installed with permanent drilled-in fasteners. These liners are completely waterproof and will not support the growth of mold, unlike most common building materials. It is a fast, economical way to cover ugly walls, stop water vapor from permeating through the walls, and will direct any walls leaks or moisture straight into the drainage system. The white color really brightens a basement, reflecting available lighting and creating a bright, usable living area for your family to use.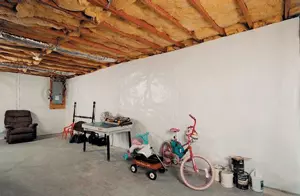 It's bright white, durable panels maximize the available light your basement and give it a bright, clean finished look, not to mention it is 100% waterproof and washable so it will help keep your basement dry.
Works as an effective moisture and vapor barrier
Easy to clean, waterproof, stain resistant
No need to paint and is maintenance-free
Can be sued over concrete block and poured concrete wall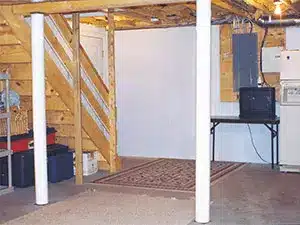 Contact Us
If you'd like to schedule a consultation with a member of our team to discuss preparing your basement for finishing, please contact us today.
Chicago, IL (Southwest)
Permaseal did some plumbing work for my elderly father, Manny & Rigo did an excellent work for him. They were very professional and detail. Made my dad feel very comfortable
…
and happy. We highly recommend Permaseal they really care for their customers
Maria L. Castro
Interior Drain System Installation
They were very competitive in pricing, I got more for less than the other top basement waterproofer. We needed the interior drain system, and got our cracks filled in the
…
walls and a bubbler discharge line, and still saved [money] over the other bids. We did get 3 other bids, and chose them as an established company, and when they said it would be done in one day we signed on the line. The date of the work was about 2 months out, which gave us plenty of time to clear out years of stuff stored downstairs, and we had to move the washer and dryer and slop sink or laundry tub, we did our own disconnect and re connect of the laundry tub, and saved more money ( they add charges for a plumber to come out) and we moved anything else we did not want to move away from the walls, and we covered everything with tarps. They arrived on time, actually early,and did not waste a minute getting to work. It will be loud and you will clean up dust, but considering the job done, it was not that bad. I did not get the battery back up pump, but may in the future, it is recommended, but my neighbors don't have them, and we have a generator in case of power outages. Seepage control is not sewer back up control, so it that is your issue, you will need to have another type of plumbing work done. It has been a pleasure to not have to step over seepage trails, it has been a wet week or 2 here, and not a drop of water to be found! Most towns have a rebate for waterproofing or flood proofing, and I will be taking advantage of that too.
Ruby S.
Electrical work
I can highly recommend Matt Tomfohrde, Supervising Electrician at Perm-Seal, for his excellent electrical work today, both servicing connections for three low voltage landscape lights as well as adding an
…
outlet behind a painting on the wall above our grand piano. Our words were 'Oh, we can't believe how beautiful the painting looks, lighted from above!' Thank you, Matt!
Jerri G