Basement Pre-Finishing
As a homeowner, don't resign yourself to living with a wet basement. The first step to finishing the space is to make sure any water problems you are experiencing have been resolved. Pre-finish before you finish! You can reclaim that valuable downstairs living space, and enjoy it with family and friends. To ensure your basement will not leak or flood BEFORE you invest in a basement finishing or remodeling project, call Perma-Seal to schedule a FREE inspection. With our fully transferable warranties and financing options available, you can have peace of mind knowing your investment is protected.
When you want to be sure your basement will be protected from any future water damage, it is important to have a basement waterproofing system in place that will control and divert any water before it damages your property. Through the use of these systems as well as our wall systems and humidity control products, you can rest easy knowing your basement will be safe.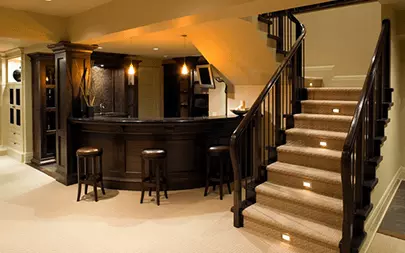 There are two main types of products that we install in homes as part of our basement pre-finishing solution. Please use the links below to get more information about them.
Basement Finishing Ideas
Once we have installed our basement pre-finishing products, you can start to think about what you really want the space to be used as. Many of our customers have gone on to use the extra space in their basement as a:
Bedroom or guest room
Family room
Home theater room
Gym or workout area
Home office
Kids playroom
Man cave or craft area
Many more!
Contact Us
If you would like to talk to one of our team members about pre-finishing your basement, don't hesitate to contact us and set up an appointment. We look forward to working with you.
Foundation Crack Repair
The leaks we had were resolved. They did a good job. They excavated & filled the crack in the foundation of our home.
Sherry G.
Foundation Repair
Perma-Seal Basement Systems sealed a large crack in the foundation where water was constantly seeping into a room in our basement. They were here for several hours because there was
…
constant water seeping into the room while they were trying to seal the crack in the foundation. They worked diligently until the crack was completely sealed. I paid exactly what they estimated the work would cost.
Tony K.
Foundation Repair, Drainage System Installed & Upgraded Sump Pump System
I battled leakage from a useless ash pit located next to my basement fireplace for many years. Because it only seemed to cause an issue after ongoing, ground saturating rains
…
I put up with the inconvenience of sucking water out with a shop-vac and dumping it into either the existing sump pit or laundry room sink when it filled up after sucking the water every 10-15 minutes so it would not flood my family room. This happened a couple times a year, but last winter & spring were the final straws. After coming home after a weekend getaway to a completely flooded family room due to a heavy winter rain that seeped down my foundation due to frozen ground, I'd had enough and decided to do something about it as soon as the ground thawed. Unfortunately, a flooding, ongoing rain hit before I made any calls and I spent 48 hours, sucking water out of that ash pit EVERY 5 minutes around the clock…dumping 108, 6 gallon shop-vacs into the sump pit!!! I spoke with several companies but at this point I really wanted the Cadillac of companies and called PermaSeal because I'd heard & read nothing but rave reviews. When Ron Rodriguez came out to assess the issue, he showed me a detailed power point presentation that explained the process and answered all of my questions! He was so personable and professional that it really eased my concerns and I was convinced I had made the right decision. The work crew was also amazing! They were all so pleasant and so consciensus about maintaining the condition of my yard while doing the deep trenching required to repair the issue. They also completed the job in an unbelievable time span. The 8-10 foot deep trench across the front of my house was opened up the first day and when they cleaned things up to leave for the day, I panicked a bit due to a heavy rain forecast for that night! When I talked to the foreman, he said, you are good to go – no worries… Your drainage pipes are installed and connected to your new sump system that's working just fine! It poured pitch forks & hammer handles that night and although I camped out in the basement to keep an eye on the ash pit, it stayed bone dry…and has been ever since!!! The work was completed by noon the day and my yard was immaculate! I could not recommend PermaSeal's quality and the people who make up every aspect of their business more highly!
Read more "Foundation Repair, Drainage System Installed & Upgraded Sump Pump System"
Kathleen W