Basement Pre-Finishing
As a homeowner, don't resign yourself to living with a wet basement. The first step to finishing the space is to make sure any water problems you are experiencing have been resolved. Pre-finish before you finish! You can reclaim that valuable downstairs living space, and enjoy it with family and friends. To ensure your basement will not leak or flood BEFORE you invest in a basement finishing or remodeling project, call Perma-Seal to schedule a FREE inspection. With our fully transferable warranties and financing options available, you can have peace of mind knowing your investment is protected.
When you want to be sure your basement will be protected from any future water damage, it is important to have a basement waterproofing system in place that will control and divert any water before it damages your property. Through the use of these systems as well as our wall systems and humidity control products, you can rest easy knowing your basement will be safe.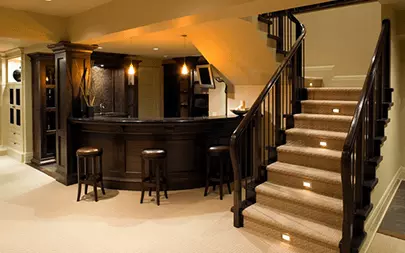 There are two main types of products that we install in homes as part of our basement pre-finishing solution. Please use the links below to get more information about them.
Basement Finishing Ideas
Once we have installed our basement pre-finishing products, you can start to think about what you really want the space to be used as. Many of our customers have gone on to use the extra space in their basement as a:
Bedroom or guest room
Family room
Home theater room
Gym or workout area
Home office
Kids playroom
Man cave or craft area
Many more!
Contact Us
If you would like to talk to one of our team members about pre-finishing your basement, don't hesitate to contact us and set up an appointment. We look forward to working with you.
new water heater
Howard, Chris and Rigo installed our water heater and did a very good professional job. They were very clean and efficient and I would highly recommend them and Perma Seal.
Roger N
Basement Waterproofing
Vincente and Leopoldo were at our house to inspect our sump pump and also to assist us with our French drain. It needed to be raised. The gentlemen were so
…
polite and hardworking. It was quite a lot of work to get through the roots and they did a lot of work, with no complaints. My husband and I were very happy with these hard working, polite, respectful men.
Phil D
Service call
Allen was the most recent Perma- Seal employee we've delt with over the last decade and he also exhibited a knowledgeable helpful and professional attitude. We will continue to use
…
and recommend this company because of Allen ??
J Nelson