New Construction Waterproofing
When you're building a home, you have the unique opportunity to ensure that the home's foundation will remain dry forever. It's an important decision and could prevent a lot of future costly repairs, so do your research before choosing the cheapest option. Many home builders and contractors choose to use damp-proofing, which entails spraying a moisture-resistant material on the foundation walls. However, this process only meets minimal building code standards and is not a complete or permanent protection from water. Perma-Seal, however, is here to provide you with effective, dependable waterproofing solutions which will be able to prevent basement as well as crawl space seepage in your home.
The Perma-Seal System
The following products and systems are offered with our new construction services to builders in the area:
Delta MS Wall Membrane
Mechanically attached to the foundation to eliminate any problems with the wall being too "green", dirty, or wet for proper installation.
Installation is possible right after removal of the form.
Specially-designed dimple membrane drains water away from the basement walls rather than damming water pressure up against it.
Permanent solution that will not biodegrade.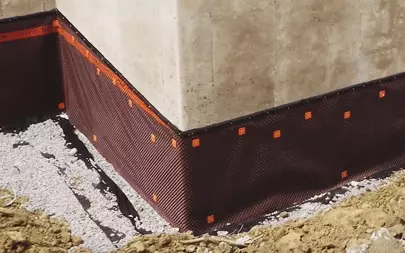 Rigid Form Insulation Board
Provides a durable protection barrier for the Delta MS Membrane.
Will help improve energy efficiency for your home by reducing your year-round heating and cooling costs.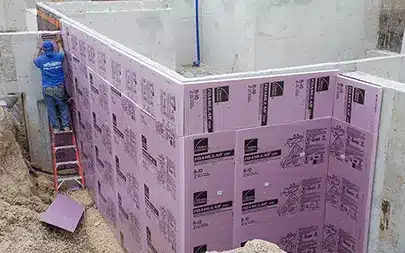 Exterior and Interior Drain Tile Systems
We can install drainage systems inside and outside of the foundation to control the water and keep it from making its way into your basement.
We only use PVC piping because it is clog resistant, but our drain tile systems will include clean out ports so it can be rodded out if necessary.
Other companies often use ABS pipe for drain tile systems, which is prone to curling and bellying over time.
We will also install window well drains for any basement window wells.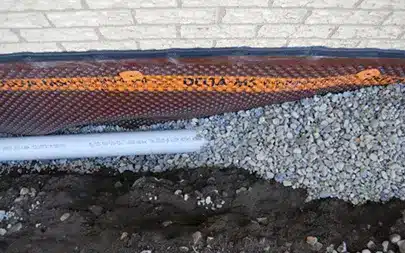 When it comes to the interior of your foundation, our CleanSpace Wall System will provide a barrier to the naturally cold and damp cement walls. It is a heavy, durable plastic liner that will stop water vapor and moisture from permeating through the walls and affecting your nicely finished basement in the future. Or, if the basement will not be finished, it will brighten the space with a semi-finished look.
Waterproof wall liner directs moisture into the drainage system.
Designed to not support the growth of mold.
20 mil thickness with a 25 year manufacturer's warranty against rips, tears, and punctures.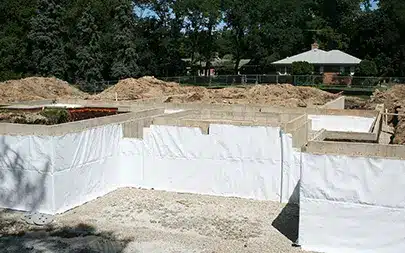 Custom Designed Sump Pumps & Pits
We can also provide your homes with custom-designed sump pumps and pits. These can be designed for both residential and commercial properties. We have a team of skilled, seasoned, and knowledgeable waterproofing professionals who will be able to provide you with the advice and solutions you need for even the most challenging of projects. We can also provide you with battery backup systems which will activate in case the primary pump malfunctions, or if the power goes out.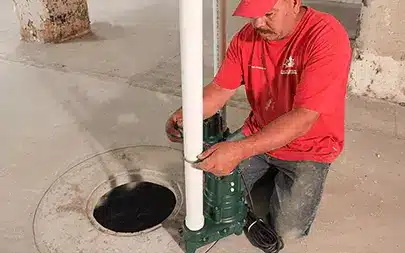 Contact Us
If you're building a home, don't wait until a few years later to find out that there was a better way to protect your basement for a lifetime, please contact us today and let us know that you're interested in having a permanent solution for your new construction project.
Waterproofing
We are very happy with their waterproofing work in our home.
Flavia and Mike M.
Basement Waterproofing
Before Perma-Seal: Every time it rained I'd get water in my basement…more rain, more water. One time when my boys were pushing the water to the sump pump hole they
…
lifted the cover and there was a SNAKE! A couple days later…another snake! That was it. I called Perma-Seal. They came right out and explained everything I needed to fix my problems and gave me a price that really surprised me (pleasantly). They sent their workers out and all their work (and workers) were really great! Now.. no more water, no more snakes, and no more worries when it rains! I can't say enough good things about Perma-Seal! I only wish I knew about them and how affordable they are when I owned my previous house!
Jan C.
Basement Waterproofing
I live in Tinley Park and I called Perma-Seal because my basement was leaking after every rain and they came out and gave a price quote. It was a lot
…
of money to spend so I called another waterproofing company to get a second opinion. They was only dollars difference but there attitude and willingness to fix the problem made me choose them over the other people. They were all so nice and professional and worked quickly. We had our first big rain yesterday and there is no water in my basement.
Jeri L.