Preventive Maintenance Service
You know that regular maintenance on your car and furnace can prevent major problems in the future. Well the same is true for your home!
Perma-Seal offers a Preventive Maintenance Service that will help keep your basement or crawl space dry all year round. Our trained technicians will perform an in-depth, 15 Point Inspection of your lower living space and find anything that could become problematic in the future.
So whether you're new to your home, never had your basement inspected or you can't remember how old your sump pump actually is, schedule your Preventive Maintenance Service today and we can continue to keep your dry basement, well…dry. Not to mention, we can save you a lot of headaches and costly repairs in the future.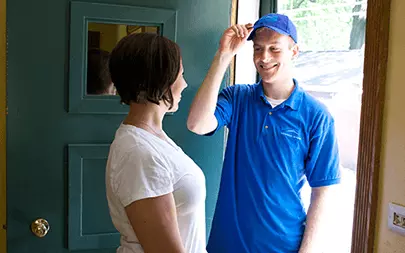 15 Point Maintenance Checklist
Our maintenance checklist covers all of the pertinent areas of your home that are commonly plagued by basement waterproofing as well as foundation repair issues.
Clean and water-test storm sump
Inspect window wells and well drains
Clean storm water sump pit
Inspect exterior concrete
Flush and water-test discharge line and fittings
Inspect basement windows
Check battery and operation of back-up pump
Visual inspection of water heater
Replace battery on High Water Alarm
Check relative humidity to help prevent mold and reduce odors
Test ejector pump
Inspect damp/unfinished crawl space
Examine foundation walls for seepage or structural damage
Check yard drainage and downspout extensions
Provide written report of findings and recommendations
Contact Us
If you would like to set up an appointment for us to perform our preventive maintenance, don't hesitate to contact us today. We look forward to working with you.
Annual check up/ maintenance
Keegan King came over to check our sump system and review overall structural conditions. He did a great job and was thorough with his evaluation. He also tolerated my dogs'
…
constant barking. I appreciate that I am informed of service product offerings and improvements, but never feel pushed into purchasing right at the moment. Keegan took the time to show a video of how one of their products worked so I could make an informed decision. I feel that Permaseal is always upfront and transparent with cost, value, and efficiency. It's nice to know how investing in products can save energy costs or create a healthier environment. Good customer service can be hard to find, but not with Permaseal.Much thanks!Julie
Julie Bayer
Sump pit maintenance
Mr. Laundie did an excellent job servicing our system, explaining thoroughly what was being done and for what reason and was very professional and knowledgeable. It is folks like these
…
that make companies great. Thanks Permaseal
Perry DiGirolamo
Preventive maintenance
Dustin did the inspection at our house. He arrived on time, was pleasant and personable. He explained what he did and offered us some recommendations. I would highly recommend him.
Judith Kubek