Plumbing Services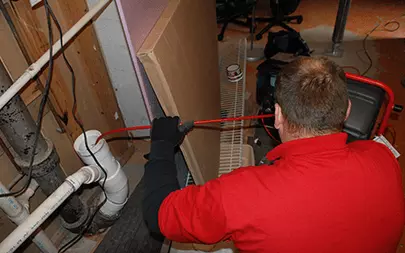 Our licensed plumbers can provide you with expert installation, repair, and replacement services for common plumbing related items in your home. There are some items that if not installed or maintained properly can lead to a wet basement or a damp crawl space so it is important to have a licensed plumber provide all necessary plumbing services in your home. All of your plumbing components will be thoroughly inspected when our team is at your home to make sure we catch any problems, or warning signs of a problem, early on.
Water Heaters
When it is time to have your water heater installed or replaced, be sure to have it done by a licensed plumber to ensure it is done correctly. Our plumbers are regularly trained to stay on top of the latest code standards.
Ejector Pumps
An ejector pump is very similar to a sump pump except it is used to remove grey water from the home instead of water from a waterproofing system. It is important to have your ejector pump regularly maintained and if it needs to be replaced, it should be done by a licensed plumber.
Laundry Tubs
Laundry tubs, also known as laundry sinks or utility sinks are large and usually installed in the basement. If you would like one installed or you have one that needs to be replaced or moved, our plumbers can help.
Fortunately, we have an entire group of experts that can help you with your plumbing needs.
Contact Us
If you have any type of plumbing questions or believe you have some plumbing problems, don't hesitate to contact us and set up a meeting with one of our experts.
Overhead Sewer Conversion
Howard was the lead plumber on our overhead sewer conversion. He explained everything he was going to do and how he was going to do it. the entire team worked
…
worked very hard for two days on the project and we found them all appealing and very nice to work with. The only issue is that we had a second plumbing project and due to a last minute scheduling change they sent someone else that had no communication with Howard and unfortunately Howard will be returning to redo the project as it wasn't completed as presented. We will only work with Howard.
Margaret Gawronski
Foundation Crack Repair
I have used Perma-Seal numerous times before. During the winter, Perma-Seal fixed 2 leaks where seepage was coming through the cracks. Jason came out to fix them, and although it
…
was minor, the work was well done. Jason was especially wonderful as well as Rosie. Rosie knew we were moving and needed to fix the two cracks. Everything was done quickly and efficiently.
Sharon D.
estimate
Duane came out to look into a wall crack below the garage. He worked diligently visiting several parts of the house. After further analysis it was concluded that there was
…
no structural damage to the foundation. I very much appreciate the honesty and professionalism of Duane.
Dimitrios