Plumbing Services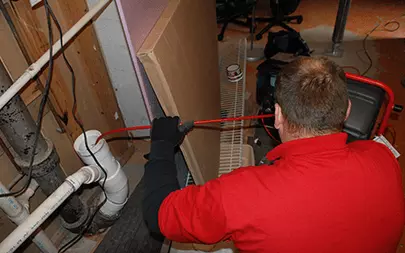 Our licensed plumbers can provide you with expert installation, repair, and replacement services for common plumbing related items in your home. There are some items that if not installed or maintained properly can lead to a wet basement or a damp crawl space so it is important to have a licensed plumber provide all necessary plumbing services in your home. All of your plumbing components will be thoroughly inspected when our team is at your home to make sure we catch any problems, or warning signs of a problem, early on.
Water Heaters
When it is time to have your water heater installed or replaced, be sure to have it done by a licensed plumber to ensure it is done correctly. Our plumbers are regularly trained to stay on top of the latest code standards.
Ejector Pumps
An ejector pump is very similar to a sump pump except it is used to remove grey water from the home instead of water from a waterproofing system. It is important to have your ejector pump regularly maintained and if it needs to be replaced, it should be done by a licensed plumber.
Laundry Tubs
Laundry tubs, also known as laundry sinks or utility sinks are large and usually installed in the basement. If you would like one installed or you have one that needs to be replaced or moved, our plumbers can help.
Fortunately, we have an entire group of experts that can help you with your plumbing needs.
Contact Us
If you have any type of plumbing questions or believe you have some plumbing problems, don't hesitate to contact us and set up a meeting with one of our experts.
Basement Waterproofing
I live in Tinley Park and I called Perma-Seal because my basement was leaking after every rain and they came out and gave a price quote. It was a lot
…
of money to spend so I called another waterproofing company to get a second opinion. They was only dollars difference but there attitude and willingness to fix the problem made me choose them over the other people. They were all so nice and professional and worked quickly. We had our first big rain yesterday and there is no water in my basement.
Jeri L.
350 S Slusser St
(Kenneth) Allen has been to our home twice. First when we had a battery sump and ice guard installed, and again today for the annual maintenance check. Allen is super
…
knowledgable and took to time explain everything he was doing, and also answered all of our questions. He was polite and thorough during both visits. A+ customer service. Because of these experiences, we don't hesitate to recommend Perma-Seal to our friends and neighbors.
Megan Lavery
Warranty work
Outstanding outstanding outstanding yes yes yes! Gene diagnose the problem and promptly address all the issues. Gene is very professional very courteous. Great to talk to and work with. I
…
would always request Gene for all my Perma Seal services.
Linda