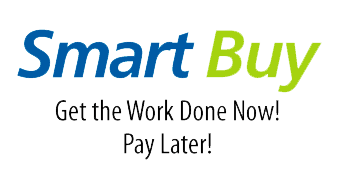 At Perma-Seal, we know that foundation and water problems are serious issues that should not be postponed. We offer several different types of payment programs to help you achieve your dream of a dry basement and healthy home. With our SmartBuy program, you're in control of when to undertake a major home repair. Booking repairs in a timely fashion lets you protect the investment in your home without tapping into equity, savings or emergency funds. You end up with a more livable, more comfortable – and more sellable – home! It makes economic sense for many homeowners.
New Financing Options!
Zero Interest & No Monthly Payments for 6, 12, or 18 Months
Zero Interest with Equal Monthly Payments for 24 or 48 Months
Perma-Seal Smartbuy Program:
Speed: Quick application process & same-day credit decision.
Flexibility: Choose from a range of payment options that fit your needs.
Control: Flexible and affordable monthly payments OR no monthly payments and no interest*
Convenient: Easy online account management.
Contact Us
Cracked foundations, leaky basements and mildewy crawl spaces are often serious problems that shouldn't be delayed. If you feel you've put your repair project off long enough, financing can help you get it done now instead of later. It's not worth gambling with the investment you've made in your home! To get started with one of our team members, please contact us today.