Sump Pump Installation & Replacement Services
Our team at Perma-Seal offers professional sump pump installation and replacement services for home and business owners in Chicago and NW Indiana.
Trusted Sump Pump Systems
At the heart of every basement waterproofing system is a sump pump. The sump pump keeps water flowing away from your home. When your sump pump fails, the drain tile and window well drains will back up and the result could be several inches of water in your basement. That is why it is important to have a quality sump pump that will be reliable when you need it most.
At Perma-Seal, we install patented sump pump systems including the best cast-iron sump pumps and longest-lasting battery backup sump pumps in the industry. We have waterproofed hundreds of thousands of basements, and we're ready to help you with sump pump services and installation.
Common Sump Pump Problems
Sump Pump Failure
One fact about sump pumps…they all fail. It's not a matter of if, but when. And since your sump pump is the heart of your waterproofing system, it's important that you select the best pump that is needed for your home. So what happens when your pump dies? Or the power goes out during a storm? That's right, your basement could flood.
When groundwater rises around your basement, your sump pump is there to ensure that your basement remains dry by moving the water away from it. The float switch on the pump rises to engage the pump as water enters the sump pit. If the float switch is obstructed or defective, the pump will not power on when water enters, and you will likely have a flooded basement.
The best way to stay ahead of any potential problems is to use a high quality primary sump pump that is partnered with a battery backup system to ensure the pumps are always ready. When systems are combined in a sump pump system, you will have multiple pumps to keep your home safe and dry.
Pump Doesn't Work When Power Is Out
Oftentimes during a heavy storm, power to your home is lost and your sump pump will not work. When your sump pump does not work in a heavy rainstorm, your defense is down and your basement is susceptible to flooding. What good is a sump pump if it doesn't work when you need it most?
Since the pump runs on electricity, when it is out you need something that can operate on its own. This is where battery backup sump pumps shine. They can work when the power goes out and will turn off and go back into a charging state when the power returns.
Pump Is Always Running
All pumps fail, but constant running of a sump pump will quickly diminish the lifespan of that pump and could cause a mechanical failure. If your pump fails, you will no longer be protected and your basement will start taking in water. Perma-Seal offers primary and backup pump solutions customized for the needs of your home.
Float Switch Not Working
Some sump pumps operate by a tethered float switch. When water rises in the basin, the float switch begins to float, activating the sump pump. However, these switches have a tendency to get stuck or fail, causing your pump to not work and for water to have a free pass into your basement.
When the sump pump is not working properly it is either in need of repair or it may be time to replace it with a new primary sump pump.
Sump Pump Is Really Loud
Are you tired of hearing your pump every single time that it runs? We have many simple solutions to help to reduce the noise that your pump makes. One solution is to replace it with a more efficient and quieter primary sump pump or even adding an accessory such as a quieter check valve or seal for the pump pit.
Sump Pit Is Uncovered
Not only is a sump pit an eyesore in your basement, but it also can be dangerous. A pet, child, or even an adult can hurt themselves by stepping into an open sump pit. Additionally, an open sump pit can produce odors and harmful gases into the basement environment. And finally, a sump pump in an open sump pit is susceptible to things that may fall into the pit and prevent proper sump pump operation.
The use of a complete sump pump system will help ensure you have a covered and sealed sump pit. If you're just missing a lid or it was damaged, we have lids as part of our sump pump kit accessories.
Sump Pit Has A Bad Odor
If you smell a foul odor coming from the sump pit in your basement, you are probably overdue for maintenance on your pump. When water or debris backs up into the pit and stagnates, this odor may occur. Regularly scheduled maintenance will help address any existing or potential issues with your pumping system.
You should also consider the installation of a new sump basin and lid to keep the area around the sump pump clean and odor free. This is not to ignore your regular maintenance calls, but it will keep your basement atmosphere much more inviting by eliminating odors in the basement.
To be sure the sump pump is properly sealed, a sump pump system should be used or if you want to retrofit your existing one, we have accessories such as new lids and basins for your existing pump.
Sump Pump Doesn't Pump Water Efficiently
If your sump pit is filling with water faster than the sump pump can remove it, you are at risk of water overflowing into your basement and ruining any basement finishing materials or important family items you have stored. Such circumstances are likely to happen during a heavy rain storm when ground saturation is too much for the pump to handle. This could cause the pump to run constantly, and lead to a mechanical failure.
The best way to protect yourself from this situation is to make sure that you have an adequately sized primary sump pump for your home. Perma-Seal offers a range of primary pumps and battery backup solutions to best suit your needs. Whether you have a mechanical failure of the main pump or there is too much water coming in, the battery backup will pump out the excess water to protect your basement.
Certified Sump Pump Installation
In the same way that you wouldn't hire a basement waterproofer to fix your roof, you wouldn't hire an electrician to jackhammer your basement and install a drainage system. With our team of waterproofing experts, you can count on their experience and knowledge to recommend the right system for you!
When you have a high quality sump pump installed in your basement or crawl space you can rest easy knowing your home will be protected from flooding during heavy rains. There are different types and combinations of sump pumps for different applications and levels of use. It is important that the proper size and pumping capacity is matched for your home and needs.
Our Sump Pump Solutions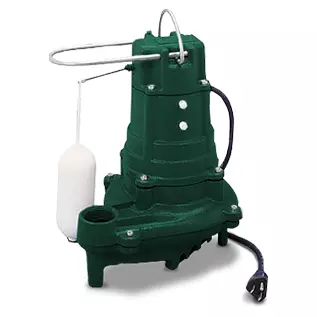 Primary Sump Pumps
A high quality primary sump pump will ensure the water is removed from your home continuously during heavy rains. It is important to use one that has a good reputation and history of working for extended periods of time.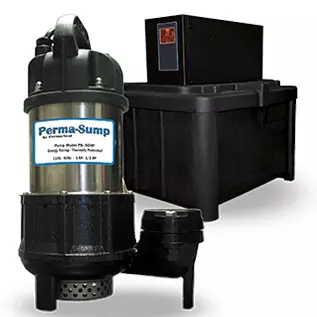 Battery Backup Systems
The worst thing that can happen to your sump pump is to have the power go out during a heavy storm. Having a battery backup in place will ensure the water continues pumping until the power come back on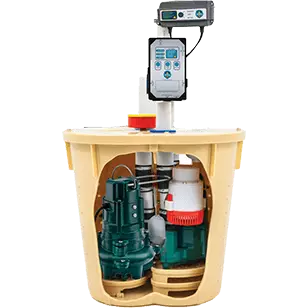 Complete Sump Pump Systems
With a number of options, we can install a system of pumps that include primary and backup pumps as well as battery backups all built into one convenient package. When systems are paired and packaged together, we can better ensure proper operation.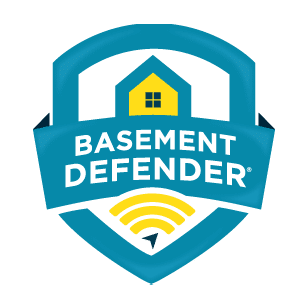 Basement Defender
Regular testing of sump pumps will ensure the pump will work when you need it to. If problems are found, an alert is sent to notify you of the issue so you can be ready before a storm hits.
Contact Us For Sump Pump Installation and Replacement Services
If you are looking for a new or replacement sump pump system for your home or business we can help. Contact our experts at Perma-Seal to get a free estimate today. Each free inspection includes an on-site consultation, written price quote, and a copy of our waterproofing book "Dry Basement Healthy Home". Contact us today to schedule your free inspection.
Sump Pump Installation
This company has worked for me numerous times. I had a water leak in the basement that we could not locate. The first time they came out they found where
…
This company has worked for me numerous times. I had a water leak in the basement that we could not locate. The first time they came out they found where it was coming from. At that time I had a sump pump put in and also some patching on the outside walls. This year they came for my yearly check and I told them I wanted a battery back up for the pump. They were outstanding. They did not try to sell me the most expensive just the one that would serve my purpose. Since having this done I have not had a drop of water and we have had some bad rain storms. All their workers are very professional and courteous. They come in and when they leave you never even know they were there. Their cleanup is outstanding. I would highly recommend this company to others who are having water problems. The water was not coming from the drain it was hydro-static pressure which I never heard of before. They knew what it was and correct the problem.
Shari C.
Basement Waterproofing
Before Perma-Seal: Every time it rained I'd get water in my basement…more rain, more water. One time when my boys were pushing the water to the sump pump hole they
…
Before Perma-Seal: Every time it rained I'd get water in my basement…more rain, more water. One time when my boys were pushing the water to the sump pump hole they lifted the cover and there was a SNAKE! A couple days later…another snake! That was it. I called Perma-Seal. They came right out and explained everything I needed to fix my problems and gave me a price that really surprised me (pleasantly). They sent their workers out and all their work (and workers) were really great! Now.. no more water, no more snakes, and no more worries when it rains! I can't say enough good things about Perma-Seal! I only wish I knew about them and how affordable they are when I owned my previous house!
Jan C.
Inspection of sub pump and patio concrete slab.
Keegan was very pleasant and knowledgeable about the various issues I was concerned with. He provided proposals for solutions to each. I elected to proceed with the patio concrete lifting.
…
Keegan was very pleasant and knowledgeable about the various issues I was concerned with. He provided proposals for solutions to each. I elected to proceed with the patio concrete lifting. This project is slated to begin on August 16th.
Reynold Johnson