Crawl Space Encapsulation
Help protect your family and your home from excess moisture, toxic mold, unwanted pests, soil gases and harmful airborne allergens. With a Perma-Seal Crawl Space Encapsulation System, you can turn your dark, dingy crawl space into a bright, healthy, usable space. Encapsulating your crawl space is very different from waterproofing a basement, it involves the use of a heavy duty liner as well as a specially designed drainage system and sump pump to remove the water from your home.
Some of the features and benefits of encapsulating your crawl space are:
An encapsulated crawl space will add additional bright, clean usable storage space to your home.
Added insulation can help reduce your heating and cooling costs.
The wall and floor liners act as a barrier to insects, gases, odors and moisture, enhancing air quality throughout your entire living space and creating a healthier home.
You can increase the resale value of your home. Water problems must be disclosed when you sell the house, which could turn away potential buyers.
If any future problems occur, our Encapsulation System can be cut and re-seamed with minimal disruption.
Wall and Floor Liners
After homeowners remove their belongings and a rough grade is established, we place a floor liner over the ground to become the base of the encapsulation system. These liners help disperse soil gases and enhance water drainage below the floor liner. Then, one of our wall liners is completely sealed over the floor and walls to fully encapsulate the crawl space and isolate the area from the outside earth. All of our wall liners are 100% waterproof and will act as a barrier to moisture, gases, insects and odors, and will not support any mold growth. They are designed to direct any wall seepage straight into the drainage system and sump pump, helping keep your crawl space dry.
We use four main types of liners:
Soil Gas Dispersing Drain Fabric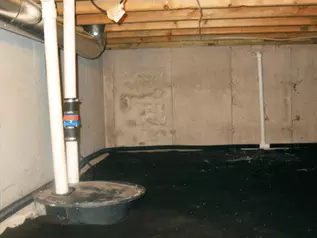 100% Polypropylene fibers that won't rot or decay
Added cushion for the floor to protect liner, hands and knees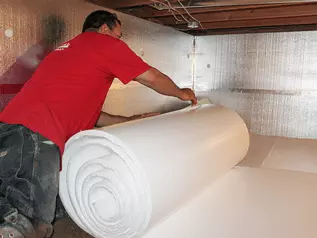 3/4″ flexible foam with vapor barrier on both sides
Adds a R4 insulation value to the floor
Much thicker cushion for the floor to protect liner, hands and knees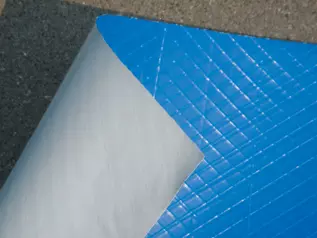 20 mil thick, puncture resistant liner
25 year warranty against punctures and tears
Will brighten your crawl space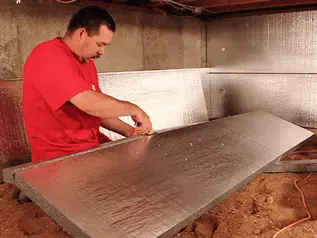 Added R11 insulation value for exterior walls to reduce your heating and cooling costs
Radiant barrier also reflects heat back into your crawl space
Can also be installed in the rim joist for added insulation
You may not yet be experiencing standing water in the crawl space (or perhaps are unaware of it) but our 4" drainage system, in conjunction with a Perma-Seal sump pump and battery backup system, ensures that your crawl space will remain dry.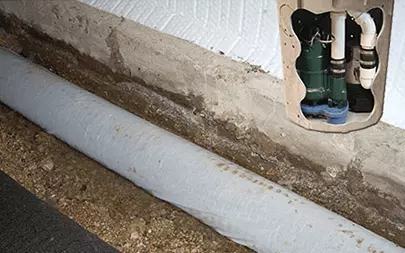 Soil Gas Ventilation Systems
A passive ventilation pipe is installed during the encapsulation process to prevent soil gases from building up pressure under the liner by venting them to the outside. This system never needs maintenance because there are no moving parts.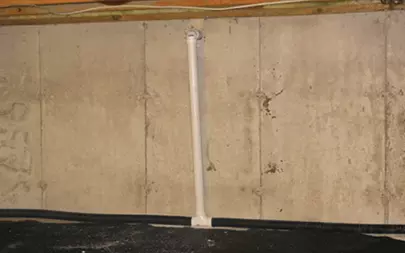 Perma-Foam Rim Joist Spray Insulation
A great way to make your upstairs living space more comfortable, and to increase your energy efficiency is to insulate the floor rim joist area in your basement or crawl space. Perma-Seal's Perma-Foam Insulation can be installed in just one day and is twice as effective as the old fashion fiberglass batt insulation. Perma-Foam will seal off any unwanted drafts, deter insects, rodents and is mold and mildew resistant.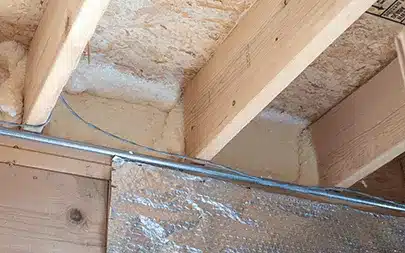 Contact Us
If you'd like to schedule a consultation with a member of our team to discuss encapsulating your crawl space, please contact us today.
Crawl Space Encapsulation
They were here to please and made sure the customer was happy. They were prompt and professional. My husband handles more of the price aspect, so I don't know what
…
he compared it to. Perma-Seal Basement Systems redid the seal in the crawl space.
Kurt S.
Crawl space waterproofing and sump pump estimates
I got an estimate for a new sump pump system and drain tiles from Mike K. He did a great job explaining everything to me and answering the hundreds of
…
questions I had. He is very knowledgeable about a number of different solutions to keeping our home dry.
Read more "Crawl space waterproofing and sump pump estimates"
Don C
crawl space
I am delighted with the work and the results. I was sorry my house foundation needed the work, but the workers and the work they did is outstanding!
Joan B