Drainage Systems
A properly sized sump pump and back-up system is the heart of a properly designed and installed waterproofing system. Depending on the situation our certified foundation consultant will design a system customized to address your specific problem. Please take some time to read about our drainage systems and benefits.
These drainage systems differ from our entire wall solutions in that they are placed in the path of the water to intercept it before it becomes a problem. When a drainage system is combined with our wall crack repair solutions, you can have a basement environment that is dry and healthy.
Interior Drain Tile
If you have noticed water appearing around the perimeter of the basement in the cove joint area (where the floor meets the wall), then this is typically a problem brought about by hydrostatic pressure. This pressure is created whenever the soil around your home expands due to a heavy rainfall or excess melting snow. The rising water table underneath your home will be pushed by the excess pressure right through the cove joint and into your basement.
A drain tile system is one of the ways to permanently put an end to the leaks. It will gather any excess water and divert it to a sump pump.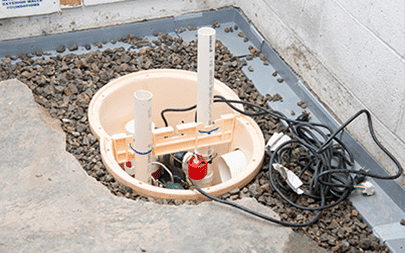 If your basement is finished or you prefer to have the repair done from the outside of your home, our exterior drain tile system is your best choice. Not only will the system divert any excess water away from your home, but our exterior wall solutions will help protect your foundation walls from the elements and will help keep cracks in the foundation from leaking in the future.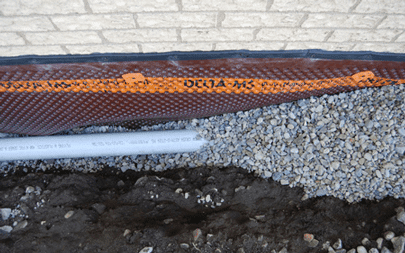 If you are experiencing cove seepage and are not seeing water coming up in other areas of the basement our patented WaterGuard™ is a great solution! This waterproofing system was designed to sit on top of the footing, instead of next to or below it in the dirt, to create a virtually clog-free system. It functions the same as our other drain tile systems by collecting excess water under the cove joint and diverting it to a sump pump.
Many homeowners choose this option because it is less invasive than the installation of a full interior drain tile system. WaterGuard™ is installed on top of the footing and requires less concrete in your basement floor to be removed. The installation time is significantly less which means you will have a dry basement much sooner!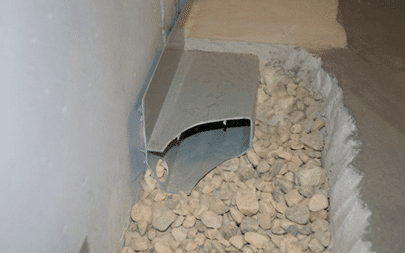 Our patented DryTrack™ System works best on monolithic foundations, where the floor and footing are one pour of concrete, and are installed on top of the floor so there is no damage to the flooring. This specially designed system will remain clog-free and is effective for all types of foundation walls. It entails a simple, clean installation, and is adhered at the bottom of your walls.
The DryTrack™ is designed to collect water as it enters at the cove joint and divert it to your sump pump system.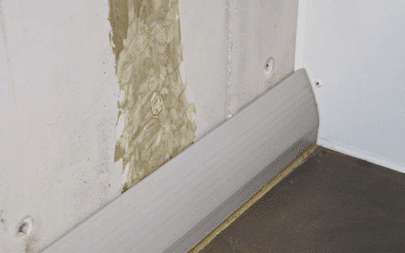 If your spillover joint (between the top of the foundation and bottom frame of the house) is below grade, water can enter over the top of the wall anytime it rains hard. The exterior of your home (brick, vinyl, stone or aluminum) is not designed to be buried underground. If lowering the grade is not feasible, a permanent repair should include an appropriate waterproof membrane and a drainage system.
If you have noticed water getting into your basement through the spillover joint, you will likely see water stains on the walls leading to puddles on the floor. This moisture can damage anything you have stored in the basement, and it can also lead to the development of dangerous mold and bacteria. Keep in mind, the EPA states that over 50% of the air you breathe upstairs originates from the lower level of the home, whether it's a basement or a crawl space.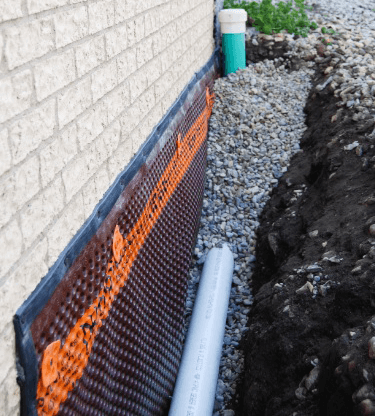 Contact Us
If you'd like to schedule a consultation with a member of our team to discuss a drainage system for your basement, please contact us today.
April 21: Eli sealed a 6 ft crack in our basement wall.
Technician Eli did an excellent job in a very professional and competent manner. Eli's fine work has made me a fan of Perma Seal.
Jeanine Tonn
Basement insulation
The salesman was a very pleasant person. He explained the work very well. Very professional.
Bobby Nowell
Repair crack in basement wall
Mariano M. was the Perma- Seal representative. He called informing me of his estimated time of arrival. He was in company uniform, explained how he was going to repair the
…
Mariano M. was the Perma- Seal representative. He called informing me of his estimated time of arrival. He was in company uniform, explained how he was going to repair the area. He was very professional and completed the repair and left the area clean.
Victor LaPorta