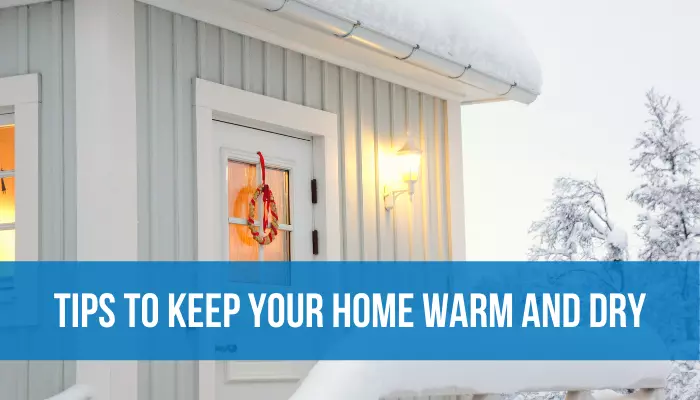 Now that it's officially winter, the temperatures in the forecast tend to trend downward, making it a little harder to keep your home warm and cozy.
Here are a couple tips to keep in mind that will help your home stay warmer and remain dry not only during the winter months, but all year round:
1. Schedule an annual furnace check-up & replace your furnace filter.
If you haven't had a regular maintenance check-up on your furnace, now is an important time to do so as usage increases for the next couple of months. It's also important to regularly replace your furnace filter. Not only will you save energy costs and keep dust particles down in the house, you'll also extend the life of your furnace.
2. Use your drapes!
Drapes and curtains block sunlight. Be sure to open them during the day which will allow some natural solar heat into your home. And close them at night to retain the warmth.
3. Ensure basement and crawl space windows are closed properly.
Drafty basement or crawl spaces from an open or poorly sealed window will create cold floor joists and floors on your main level, making your furnace work harder to heat your home. Make sure your windows are shut and sealed properly or it may be time to consider upgrading them.
4. Consider insulating your basement or encapsulating the crawl space.
To reduce energy costs, an insulated basement or encapsulated crawl space can bring many benefits to the rest of your home. Wall liners and rim joist insulation as well as installing a dehumidification and air filtration system will provide the ultimate protection against moisture entering the area, blocking the growth of mold, mildew and allergens. It will also help regulate the environment, making it easier to heat the rest of your home! After all, up to 50% of the air we breath can originate from the basement and crawl space!
5. Move downspouts away from your home.
Winter usually means inches of snow, but it can also bring winter rain! Ensure your downspouts are extended away from your home's foundation. This lessens the chance of water building up next to your foundation walls.
6. Ensure your sump pump is working.
The sump pump. Many homeowners forget it exists in the winter months because it typically doesn't have to run. Ensure your sump pump is functioning properly (and is plugged in!) in case mother nature brings an unexpected rainstorm. The last thing you want is a flooded basement in the winter due to a dysfunctional sump pump!