Perma-Seal Basement Systems has chosen to support Cal's Angels for their philanthropic efforts this holiday season. Joining forces with David Hochberg of PERL Mortgage, the Perma-Seal Tribe will be supporting several families that have been affected by pediatric cancer.
Cal's Angels' 12 Days of Christmas Program was created to relieve the burden of holiday shopping so families can focus on creating lasting memories for their child's last Christmas. Through the program, the family's entire holiday is taken care of by providing gifts for each child in the family, a gift card for holiday dinner, as well as a gingerbread house and other goodies. Over the past ten years, Cal's Angels have helped thousands of children and their families.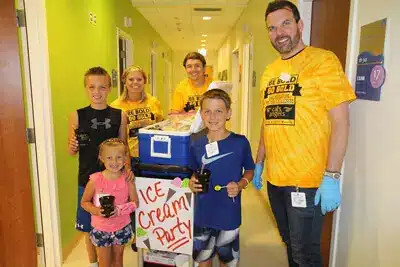 Every year Perma-Seal employees live their purpose of making the world a better place by providing help to the less fortunate during the holiday season. "Cal's Angels started out as a grass roots organization after the Sutter family lost their son to Acute Myelogenous Leukemia," said Roy Spencer, President and Founder of Perma-Seal Basement Systems. "We are honored to help Cal's Angels bring some normalcy and happiness to the families that are suffering this holiday season."
David Hochberg, Vice-President of Lending at PERL Mortgage, chose to participate with his team and added, "It's about helping families in precarious situations that have a child experiencing cancer. It's not only the child experiencing cancer that suffers, but it's also the whole family."
Perma-Seal Basement Systems is the leader in the basement waterproofing and foundation repair industry, and has helped make the world a better place for more than 350,000 homeowners in the Chicagoland and Northwest Indiana areas. For more information, call 800-421-7325 or visit www.permaseal.net.
Cal's Angels is a non-profit organization in St. Charles, Illinois whose mission is to assist children with pediatric cancer by granting wishes, raising awareness, and funding research. For more information, visit www.calsangels.org. If you would like to assist us in purchasing specific wish list items, visit www.amazon.com/.