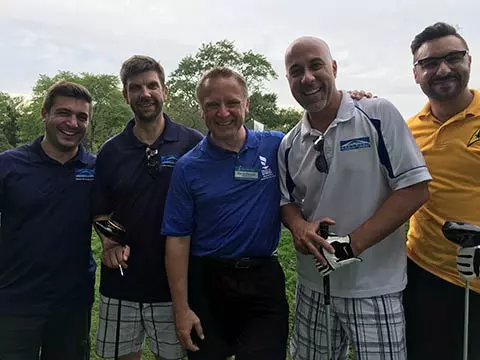 Smiles went all around at the BBB's Annual Golf Outing. From left: Paul Spinella, Director of Sales, Matt Kmoch, Sales Manager, Steve Bernas, BBB President, Jim Montalbano, Sales Manager, and Dave Maas, Marketing Creative Coordinator.
Perma-Seal Basement Systems' Sales and Marketing Tribal Members joined the Better Business Bureau of Chicago and Northern Illinois for their yearly golf outing on Thursday, August 11th. The 22nd Annual Integrity Golf Classic, presented by the BBB, was held at the Twin Orchard Country Club in Long Grove, Illinois. Perma-Seal's foursome team was nearly awarded Longest Putt of the Day, but was defeated by mere inches.
Perma-Seal has an A+ rating with the Better Business Bureau, and has been awarded their coveted 2016 Torch Award for Marketplace Ethics. For more information about the BBB, visit www.bbb.org/chicago/.