Recent reminders of what occurred 3 years ago on April 18, 2013 has stirred waves of emotion for our Tribe.
A quick refresher of the story: over a 24-hour period, Downers Grove experienced 6.7 inches of rain. The storm exceeded the capacity of the village's storm water facilities and water flooded roadways, residential homes, and businesses. Downers Grove's sanitary sewer systems surcharged due to excess water, resulting in backups through sanitary drains, toilets and shower drains, only causing additional flooding in homes and basements. Majority of the area rivers overflowed, and water reached record high levels. Homes and businesses were destroyed, and many people were displaced and forced to evacuate all over the greater Chicagoland area.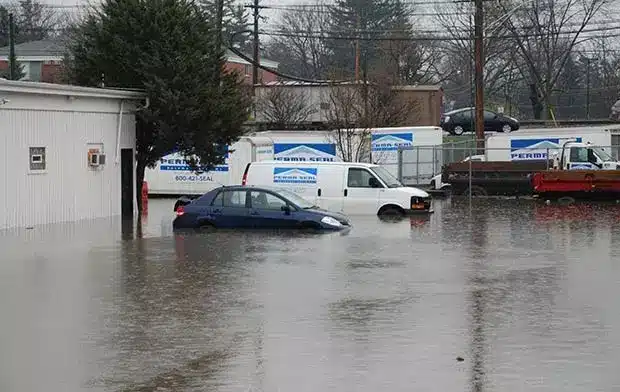 The Perma-Seal Tribe arrived that morning to find a nearby creek had overflowed which left our parking lot, main office building, and area of another building completely under water. As it continued to rain, we felt helpless and powerless over Mother Nature. Our three buildings didn't have water problems in the 20+ years in the area. We didn't have an "emergency plan," or insurance coverage to handle extensive damages as well as the lost business opportunities.
Our Tribe rallied! Many used personal vehicles to get to clients that needed our help, and set up sump pump depots since streets were closed and neighbors could not get to stores. We set up an office in one of the few areas not water-damaged, and tirelessly worked side-by-side, elbow-to-elbow, to service the thousands that needed us in their time of need. We persevered together by logging in many hours and countless consecutive days, while media partners and suppliers sent us lunch for weeks.
Reflecting on this pain a mere three years later, it seems like at every turn there was an effect from the storm we didn't yet realize. However, we are stronger today than ever, and poised for success like never before. We lost some great Tribal Members during that time, and appreciate those that have "weathered the storm" with us. Many companies may not have survived, but we have because of the dedication and passion of our Tribe. It's because you BELIEVE – in yourself, each other, our vision, mission, and leadership!
Our history is what makes us who we are. Our future is what we will become.