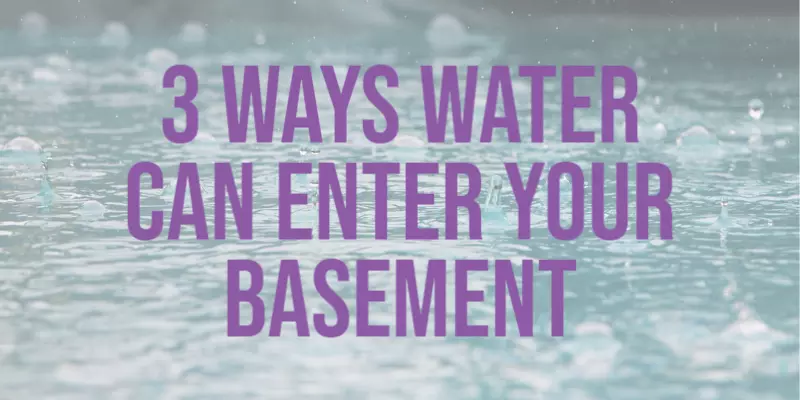 We all know a wet or leaky basement is not good for the health of your home, but how does water get there in the first place?
You might hear someone say, "My basement only leaks when it rains…". That may happen, but it doesn't mean you should ignore the issue. To put it another way – you wouldn't want your living room getting wet from time to time, would you? The same thought process should go towards taking care of your basement or crawl space.
Wet basements can lower the value of your home by as much as 10%. If you don't address the issue, you will have to disclose the information when you want to sell your home. Or you will have to repair the leaky basement anyway. Another problem a wet basement can promote is mold growth. Wet environments are conducive to nasty mold growth that can damage floor joists, furniture and create an unsettling "basement" smell.
Water can enter your basement or crawl space three ways:
Through the Walls Over the top of the basement wall Through the floor or floor-wall (cove) joint
Wall leaks are typically something you can spot in plain sight because there is a crack in the foundation wall. While water seeping through them during a rainstorm is a clear sign, after the rain has stopped there's usually a stain to tell the story. Water coming in over the top of the foundation can mean water is making its way in from siding, chimney, a window or it may be a land grading issue, and can also be seen dripping down the inside of your wall during a storm. The more difficult one to identify is floors-wall joint (cove joint) seepage. This type of seepage happens when water rises through gaps between the wall and footing of your home.
The important thing to know about these 3 water intrusion scenarios is all three have permanent solutions to keep the water out. Size, severity, and other complex variables can vary the price of the waterproofing system. It's best to reach out for a free, no-obligation estimate.
Contact us to set up a free estimate: https://www.permaseal.net/contact-us