Recognized for their commitment to workplace culture and exceptional quality work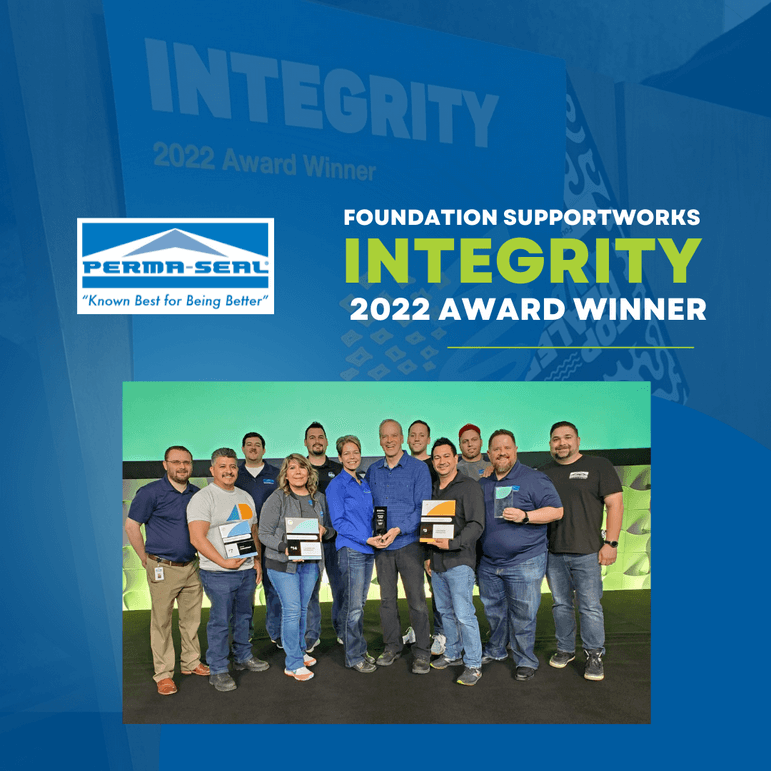 Burr Ridge, Ill., May 9, 2022 — Perma-Seal, the most trusted basement waterproofing and foundation repair experts serving the greater Chicagoland area and Northwest Indiana, is honored to be the recipient of the 2022 Foundation Supportworks Integrity Award. Hosted by Foundation Supportworks, a leader in developing, manufacturing, and delivering best-in-class products for foundation and concrete repair and protection, the award was presented during the annual Redefine conference.
"The presentation of the Foundation Supportworks Integrity Award is the pinnacle of the Redefine conference awards night banquet. It is given to a Foundation Supportworks dealer that truly exemplifies the company's vision of redefining the contracting industry," said Lowell Miller, Foundation Supportworks Business Coach. "Beyond simply raising the bar for the homeowner-contractor relationship, the Integrity Award winner walks alongside its employees and actively demonstrates how fulfilling work creates fulfilling lives. In short, the Integrity Award is about success, not just in terms of sales figures or product moved but in creating an evergreen culture that demonstrates that more is possible for homeowners, employees and vendor partners."
First held in 2017, Redefine is an annual gathering of Foundation Supportworks dealers from across the US and Canada. Every April, between 750 and 1,000 people, including owners, managers and employees, travel to Omaha to forge new relationships, renew old ones and become familiar with the latest industry trends, best practices and solutions. The event includes keynote presentations by nationally recognized speakers, breakout sessions covering various industry-specific topics and social events designed to foster an atmosphere of camaraderie and fun.
"We are honored and humbled to be awarded this year's Integrity Award. Integrity is defined by being honest and having strong moral principles. To be recognized by Supporworks, and in front of our industry peers from across the country, is an incredible honor," said Laura Ann Spencer, Executive Vice President and leader of Culture and People Development. "For 43 years, Perma-Seal has been committed to making the world a better place for our Tribal members, customers, and partners while also using our means and resources to support the communities we serve. Led by our Core Values in all that we do, we are steadfast in our commitment to provide value for the members of our Tribe, customers, and stakeholders so our Tribal members can go home at the end of the day feeling fulfilled."