As a homeowner, it is important to be sure that the lowest level of your home is dry, safe, and healthy – regardless of whether you have a basement or a crawl space. And the best way to do that is to have a drainage system and a sump pump installed to permanently keep that water out. But remember, the sump pump is the heart of the waterproofing system, so it's important that you get a high quality pump that has the capacity to handle the amount of water that comes in during a heavy rainstorm. Otherwise, you'll end up with a flooded basement and a costly mess on your hands.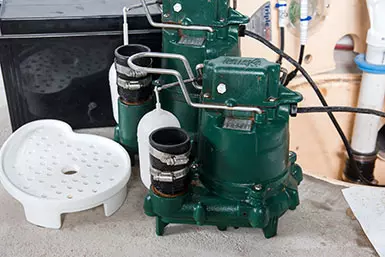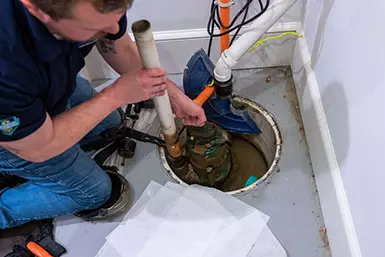 Many sumps pumps sold at those "big box" stores do not provide adequate pumping capacity and could have a shorter lifespan than those used by professionals. Although it is true, all sump pumps fail, some pumps have proven to be a better quality pump for longer. We've been in the sump pump business for over 40 years and have found that our Zoeller® primary pumps have been the greatest value for homeowners, outperforming more expensive models on the market.
Why Choose Perma-Seal for Your Sump Pumps?
With over 40 years of experience, Perma-Seal is your local expert for sump pumps. When our professional technicians install a pump at your home, you'll receive a 3 year warranty on that pump and avoid any of the hassles you would encounter when purchasing and installing a pump from your local home improvement store.
Contact Us
If you'd like to schedule a free consultation with a member of our team to discuss your sump pump needs, please contact us today.
Sump Pump Installation
This company has worked for me numerous times. I had a water leak in the basement that we could not locate. The first time they came out they found where
…
it was coming from. At that time I had a sump pump put in and also some patching on the outside walls. This year they came for my yearly check and I told them I wanted a battery back up for the pump. They were outstanding. They did not try to sell me the most expensive just the one that would serve my purpose. Since having this done I have not had a drop of water and we have had some bad rain storms. All their workers are very professional and courteous. They come in and when they leave you never even know they were there. Their cleanup is outstanding. I would highly recommend this company to others who are having water problems. The water was not coming from the drain it was hydro-static pressure which I never heard of before. They knew what it was and correct the problem.
Shari C.
18543 Hickory Street
Very happy to have Ken Allen Laundie and Rigo come out today for maintenance on my sewer vault. Ken was very knowledgeable and helpful in my making decisions to replace
…
my sump pump. I can tell he loves his job.
Kathy Grimmer
18543 Hickory Street
I needed to replace my sump pump and decided to get the Basement Defender as well! Ramon Duron handled the job quite well and was very polite and knowledgeable. He
…
managed his time very well! I would highly recommend Permaseal to handle all the tough jobs. I am a long time customer and not interested in using any other company!
Kathy Grimmer