Basement Window Wells
Since basements are generally excavated seven to eight feet into the ground, windows are frequently installed in window wells. But groundwater is naturally attracted to these wells, even if they are covered, so the proper steps must be taken to prevent this water from pooling up and possibly leaking into your basement or breaking the windows. A proper drainage system and a sturdy, correct-fitting cover are a necessity in keeping your basement dry. But you should also make sure you have sturdy, metal wells that are attached securely to your foundation.
Window Well Drains
Most basement windows are installed in window wells, which are known to naturally attract groundwater. So it is necessary to include well drains with any window well you may have. These drains are tied into the home's drainage system and covered with a cap to keep debris from getting into the drain and clogging it. It is IMPORTANT to make sure this cap is not covered with debris and keeping the well drain from working properly, and the best way to do that is to have a quality cover on your window well.
If your well is not properly fitted with a drain or it is clogged with leaves, when it rains water will start to pool up next to the foundation and could force its way into your basement through any cracks in the wall or weak spots around the window frame. Sometimes we've seen the water build up enough pressure to eventually break through the window and cause all the water to go flooding into the basement, causing a huge mess and a costly repair for the homeowner.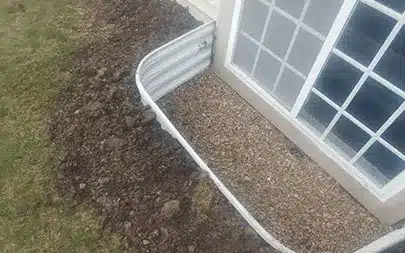 Your wells will need a lot less attention and maintenance with properly fitted window well covers. Although covers will not keep water our of your well (wells naturally attract water from the ground), they will help tremendously in keeping your well dry. If you're looking for a permanent solution, don't skimp and buy one-size-fits all plastic bubbles. They often do not fit your well correctly, are flimsy and will eventually break down because of exposure to sunlight, thus requiring you to purchase another cover. We offer custom-made well covers that are designed to prevent small children and animals from falling into your well, as well as debris that would clog the drain and prevent water flow.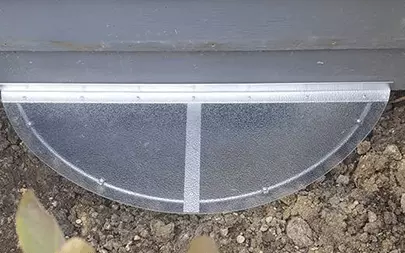 Contact Us
If you'd like to schedule a consultation with a member of our team to discuss replacing or even adding basement window wells, please contact us today.
Basement Seepage
Mike Tieggs was my rep. He was very patient in explaining everything to me, and reassuring. Roberto (the foreman) was wonderful! He explained everything that they were going to do.
…
The surprising part was there was very little mess. I expected it to me much worse. Their workmanship was A+. I would highly recommend them, if you have seepage problems. Of course, the real test will be when it rains.
Ruth A.
Waterproofing
Jose is the best. He'd better get a raise before I hire him! Great waterproofing service. 100% satisfied.
Robert T.
Basement Waterproofing
Aaron Woolfolk was very knowledgeable and professional. He explained the importance of waterproofing our basement. He also went over the financing options Perma-Seal offered. He is a true asset to
…
the company. We are glad we got him as our consultant!
Maria F