Our Company
Our History
Perma-Seal was founded in 1979 by Roy Spencer. After working for two other large waterproofing companies, he was dissatisfied with the low ethical standards and the "patch now and service 'em later" repairs that were commonplace in the industry. It was then that he started Perma-Seal, right here in the western suburbs, so that he could provide permanent repairs and be able to stand behind that work with integrity. Today, thanks to our loyal customers, we've grown to become Chicagoland's most trusted waterproofing and foundation repair company.
Why Perma-Seal is Your BEST Choice
Perma-Seal uses the most advanced products and repair methods in the industry, constantly evaluating our materials in search of the best solution for your basement, crawl space or foundation problems. Many of our product and service solutions have been developed in response to our clients' needs and requests. Recently we've added a superior sewer backup prevention solution, as well as basement plumbing solutions to our array of offerings. We offer the best warranties in the industry that are fully transferable to any new owners; many for the life of the structure. Most importantly, our competitive, no-haggle pricing assures that you're getting a fair price without the stress of playing the negotiating game.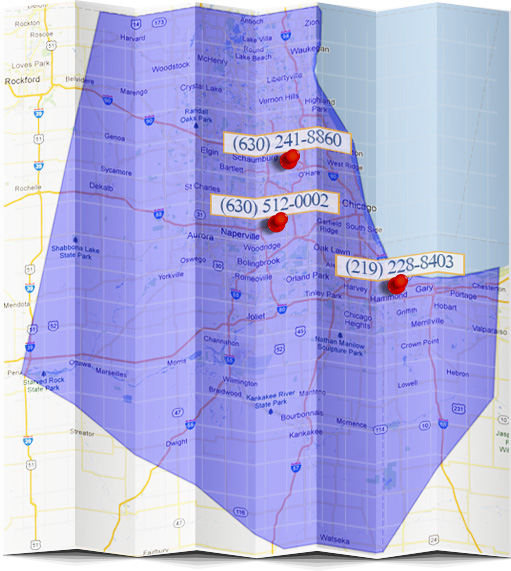 To see a full list of cities in our Service Area click on the map.
---
A TESTIMONIAL BETWEEN OUR TEAM
The email below was shared between team (tribe) members internally at Perma-Seal. We live our commitment to our customers and want to share this wonderful human story of one tribe member who went the distance to be of service to our customer.
Tribal Teammates,
Today, I received a voicemail from Bill Nienburg in Downers Grove who said we have now done three jobs for him. When I called him back, Bill told me we installed two jobs for him over the past several years. He said Kurt Wolf was out today to assess the potential interference of a floor drain if we were to install WaterGuard® in his basement near the area where we had already installed 61' of WaterGuard® in 2011.
He said Kurt was very knowledgeable and corrected several of his assumptions about where his sewer pipe was running, but he also went beyond the call of duty. Kurt was writing his estimate while kneeling on the floor so Bill told Kurt he was welcome to write on top of his dryer. Kurt explained this has been a comfortable position for him again ever since he had hip replacement surgery. Bill told Kurt that his mother is also considering hip replacement surgery. Kurt gave a short testimonial about how easy the surgery was for him and how he should have done it many years ago.
Bill told Kurt that his seventy-three-year-old mother would love to hear Kurt's story and asked if he could put her on the speakerphone and have Kurt "walk through it with her," and that's what they did. Afterward, Kurt completed the estimate for Bill and said goodbye. A few minutes after Kurt left the house, Bill heard a knock on his door and there was Kurt again, standing there with a card and the hand-written name of his doctor and his doctor's contact information so that Bill could give it to his mother.
Bill said this is one of those "People don't care how much you know until they know how much you care," kind of things. He said it's consistent with his experience with our other employees who did work for him in the past. He said, "I don't know how you created such a great culture, but keep it up!" He said, "You've got good people who get the job done right and who really care!" Finally, he offered to go onto any social media websites to post a positive review of our company, so I directed him to the BBB website, and explained what he would need to do. He assured me that he would post a positive review shortly and thanked me for calling him back.
Kurt truly cared and made his client feel that he was important to him, and as a result the client is more convinced than ever we're a great company. The way Kurt worked is an inspiring example of how we are better together.
Dan Schoendorff
Director Of Administrative Staff
and Business Development